Agnolo

Bronzino
---
Bronzino, Agnolo (Agnolo di Cosimo) (1503-72). Florentine Mannerist painter, the pupil and adopted son of Pontormo, who introduced his portrait as a child into his painting "Joseph in Egypt" (National Gallery, London).
The origin of his nickname is uncertain, but possibly derived from his having a dark complexion. Bronzino was deeply attached to Pontormo and his style was heavily indebted to his master. However, Bronzino lacked the emotional intensity that was such a characteristic of Pontormo's work and excelled as a portraitist rather than a religious painter. He was court painter to Duke Cosimo I de Medici for most of his career, and his work influenced the course of European court portraiture for a century. Cold, cultured, and unemotionally analytical, his portraits convey a sense of almost insolent assurance.
He was a much respected figure who took a prominent part in the activities of the Accademia del Disegno, of which he was a founder member in 1563. His pupils included Alessandro Allori, who, in a curious mirroring of his own early career, was also his adopted son.
---
"Cosimo I de Medici" (1545) Tempera on wood, 74 × 58 cm - 27.95 x - 22.83 in. Uffizi, Florence, Italy.
"Eleonora di Toledo" (1545) Oil on wood, 115 × 96 cm - 45.27 x - 37.8 in. Uffizi, Florence, Italy.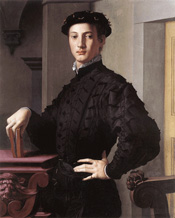 "Portrait of a young man with book" (1535-1540) Oil on wood, 95.5 × 74.9 cm - 37.6 x 29.5 in. The Metropolitan Museum of Art, New York, USA.
"The Holy Family with St. John and St. Ann" (1550) Oil on wood, 124,5 × 99,5 cm - 49 x 39.17 in. Kunsthistorisches Museum, Vienna, Austria.
---
Text source: 'Webmuseum' (www.ibiblio.org/wm).
Related Artists: Pontormo &

Related Terms: Mannerism.

| | |
| --- | --- |
| | share this page (aged 13 or over only) |