Maxfield

Parrish
---
Parrish, Maxfield (Frederick) (1870-1966). American painter, illustrator and designer, born in Philadelphia, PA. Part traditionalist, part inventor, he was an unique figure in American art.
Parrish received early training in painting and etching from his father, the painter and printmaker Stephen Parrish. Though he studied architecture at Haverford College at first, he changed to painting at the Pennsylvania Academy of the Fine Arts. Simultaneously, he attended classes given by famous American illustrator Howard Pyle.
Inspired by the graphic style of such artists as Alphonse Mucha, Parrish created posters, cover designs and illustrations for popular American magazines. However, the dominant influence on most American illustrators of the era, including Parrish, was Pre-Raphaelite painting. Parrish's characteristic subjects included woodland scenes, fairies, medieval maidens and knights in armor. Working from photographs, he developed a richly colored palette, becoming noted for his 'Maxfield Parrish blue'.
Parrish's idiosyncratic painting method involved applying numerous glazes of thin, transparent oil, alternating with varnish over stretched paper, yielding a combination of great luminosity and extraordinary detail.
In 1900 Parrish exhibited at the Exposition Universelle in Paris, and one year later at the Pan-American Exposition, in Buffalo, NY. He also executed large murals for hotels and clubs in New York, Philadelphia and San Francisco.
Maxfield Parrish died in Plainfield, NH, in 1966.
---
"Daybreak" (1922) Oil on canvas. Private Collection.
"Winter Sunrise" (1949) 33 x 38.1 cm - 13 x 15 in. Private Collection.
"Florentine Fete" (1916) Oil on canvas, 310 x 517 cm - 122 x 203.5 in. Private Collection.
"Jack and the Beanstalk" (1923) Oil on board, 73.7 x 55 cm - 29 x 21.6 in. University of California Library, Berkeley, California, USA.
"Garden of Allah" (1918)
"Arizona" (1950) Oil on board, 43.18 x 52.07 cm - 17 x 20.5 in. Phoenix Art Museum, Arizona, USA.
"Moonlit Night, Winter" (1942) Oil on paper, 40.01 x 49.21 cm - 15.7 x 19.37 in. Free Library of Philadelphia, Pennsylvania, USA.
"Sinbad in the Valley of the Diamonds" (1906) Glazed oil on paper, 40.6 x 45.7 cm - 15.98 x 17.99 in. Detroit Institute of Art, Michigan, USA.
"The History of Codadad and His Brothers" (1906) Glazed oil on paper, 40.6 x 45.7 cm -15.98 x 17.99 in. Detroit Institute of Art, Michigan, USA.
"The Reluctant Dragon" (1900-01) 33.02 x 29.21 cm - 13 x 11.5 in. Private collection.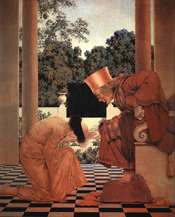 "Lady Ursula Kneeling before Pompdebile" (1924) Oil on panel. Private Collection.
"Villa Gamberaia Settignano" (1903) Lithograph, 45.72 x 72.39 cm - 18 x 28.5 in. Minneapolis Institute of Arts, Minnesota, USA.
---
Text source: various.
Related Artists:

Related Terms: Illustration Art, Pre-Raphaelites, Etching.

| | |
| --- | --- |
| | share this page (aged 13 or over only) |