Thomas

Lawrence
---
Sir Thomas Lawrence (1769–1830) was a leading English portrait painter and president of the Royal Academy. He developed a reputation for painting portraits as a child and by the age of twelve had his own studio in Bath. At his death, Lawrence was the most fashionable portrait painter in Europe. His reputation waned during Victorian times, but has been partially restored in more recent ones.
He was born in Bristol and began drawing in Devizes, where his father was an innkeeper. At the age of ten, having moved to Bath, he was supporting his family with his pastel portraits. At eighteen he went to London and soon established his reputation as a portrait painter in oils. In 1787 he became a student at the Royal Academy. In 1790, at the age of twenty, he was asked to paint Queen Charlotte, the wife of George III. The king was very pleased with the portrait of his wife and on the death of Sir Joshua Reynolds in 1792, he appointed Lawrence as the royal painter. He stayed at the top of his profession until his death, aged 60, in 1830. Self-taught, he was a brilliant draughtsman and known for his gift of capturing a likeness, as well as his virtuoso handling of paint. He became an associate of the Royal Academy in 1791, a full member in 1794, and president in 1820. In 1810 he acquired the generous patronage of the Prince Regent, was sent abroad to paint portraits of allied leaders for the Waterloo chamber at Windsor Castle, and is particularly remembered as the Romantic portraitist of the Regency.
Lawrence's love affairs were not happy (his tortuous relationships with Sally and Maria Siddons became the subject of several books). He never married.

Lawrence was knighted in 1815. Although he was a very popular painter who could command high fees for his work, he was often heavily in debt. Sir Thomas Lawrence died in 1830.
---
"The Calmady Children" (1823) Metropolitan Museum, New York, USA.
"George III of the United Kingdom" (1792) Royal Collection, UK.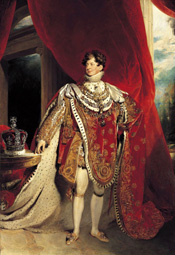 "George IV of the United Kingdom" (1821) Royal Collection, UK.
"Sir William Grant" National Portrait Gallery, London, UK.
"John Arthur Douglas Bloomfield, 2nd Baron Bloomfield"
" Portrait of Arthur Atherley as an Etonian" (circa 1791)
"Robert Jenkinson, 2nd Earl of Liverpool" National Portrait Gallery, London, UK.
"John Fawcett" National Portrait Gallery, London. UK.
"Portrait of Elizabeth Farren" (before 1791) Oil on canvas, 238 × 147 cm - 93.7 × 57.87 in. Metropolitan Museum, New York, USA.
"Sally Siddons" (18th century) Oil on canvas, 143.4 x 111.8 cm - 56.5 x 44 in.
---
Text source: unknown.
Related Artists:

Related Term: Romanticism.

| | |
| --- | --- |
| | share this page (aged 13 or over only) |