Giovanni

Bellini
---
Bellini, Giovanni (1430?-1516) was an Italian Renaissance painter, the best known of the Bellini family of Venetian painters. His father was Jacopo Bellini, his brother was Gentile Bellini, and his brother-in-law was Andrea Mantegna. He is considered to have revolutionized Venetian painting, moving it towards a more sensuous and colouristic style. Through the use of clear, slow-drying oil paints, Giovanni created deep, rich tints and detailed shadings. His sumptuous coloring and fluent, atmospheric landscapes had a great effect on the Venetian painting school, especially on his pupils Giorgione and Titian. He brought to painting a new degree of realism, and raised Venice to a center of Renaissance art that rivaled Florence and Rome.
Giovanni Bellini was born in Venice, Italy, in about 1430. His father, a painter, was a pupil of one of the leading 15th-century Gothic revival artists. Giovanni and his brother probably began their careers as assistants in their father's workshop.
In his early pictures, Bellini worked with tempera, combining a severe and rigid style with a depth of religious feeling and gentle humanity. From the beginning he was a painter of natural light. In his earliest pictures the sky is often reflected behind human figures in streaks of water that make horizontal lines in narrow strips of landscape. "The Agony in the Garden" was the first of a series of Venetian landscape scenes that continued to develop for the next century. Four triptychs in the Venice Accademia and two Pietas, both in Milan, are all from this early period. Bellini's "St. Vincent Ferrer" altarpiece which is still in the church of Santi Giovanni e Paolo in Venice, was painted in the mid-1470s.
In his later work Bellini achieved a unique religious and emotional unity of expression. His method of using oil paint brought not only a greater maturity but an individual style. He achieved a certain richness by layering colors in new and varied ways.
In 1479 Bellini took his brother's place in continuing the painting of great historical scenes in the Hall of the Great Council in Venice. During that year and the next he devoted his time and energy to this project, painting six or seven new canvases. These, his greatest works, were destroyed by fire in 1577.
As his career continued, Bellini became one of the greatest landscape painters. His ability to portray outdoor light was so skillful that the viewer can tell not only the season of the year but also almost the hour of the day. Bellini lived to see his own school of painting achieve dominance and acclaim. His influence carried over to his pupils, two of whom became better known than he was: Giorgione (1477?-1510) and Titian (1488?-1576). His younger contemporary, the German painter Albrecht Dürer, wrote of Bellini in 1506: "He is very old, and still he is the best painter of them all." Bellini died in Venice in 1516.
---
"Giovanni Emo" (circa 1475-83) Oil on wood, 49 x 35 cm - 19 1/4 x 13 7/8 in. National Gallery of Art, Washington, USA.
"Virgin and Child between St. Catherine And St. Mary Magdalen" (1500) Oil on canvas. Private collection.
"Three Musical Angels, St. Job Altarpiece" (circa 1480) Tempera on panel. Galleria dell'Accademia, Venice, Italy.
"The Doge Leonardo Loredan" (1501-1505) Oil with, probably, some egg tempera, on poplar, 61 by 45 cm - 24 x 18 in. National Gallery, London, UK.
"Sacred Allegory" (1490-1500) Oil on panel. Galleria degli Uffizi, Florence, Italy.
"Baptism of Christ" (1500-1502) Oil on canvas, 400 x 263 cm - 157 3/8 x 103 1/2 in. Santa Corona, Vicenza, Italy.
"Portrait of Fra Theodoro da Urbino" (1515) Tempera on panel, 63 x 49.5 cm - 24 3/4 x 19 3/8 in. National Gallery, London, UK.
"Madonna degli Alberetti" (1487) Oil on canvas, 74 x 58 cm - 29 1/8 x 22 3/4 in. Galleria dell'Accademia, Venice, Italy.
"Saint Jerome Reading" (circa 1480-1490) Tempera on panel, 49 x 39 cm - 19 1/4 x 15 1/4 in. National Gallery of Art, Washington, DC, USA.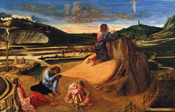 "Agony in the Garden" (circa 1459) Tempera on panel, 81 x 127 cm- 31 7/8 x 50 in. National Gallery, London, UK.
"Virgin and Child" Oil on canvas. Private collection.
"Dead Christ Supported by the Madonna and St. John" (1460) Oil on panel, 86 x 107 cm x 33 3/4 x 42 1/8 in. Pinacoteca di Brera, Milan, Italy.
---
Text source: 'Webmuseum' (www.ibiblio.org/wm) and others.